A joint project of America's leading hemp advocacy organizations, Hemp History Week is looking for patriotic Americans to anchor and organize events in their hometown as part of a national grassroots, media and public education campaign. Please click here to learn more about this important event, which will take place nationwide again in 2014.
The farming, processing and use of hemp in North America has a long and interesting history. Please check out this Hemp History page regularly over the next few months as we develop this page.
During World War II, domestic hemp production became crucial when the Japanese cut off Asian supplies to the U.S. American farmers who grew hemp were even exempt from military duty. A 1942 U.S. Department of Agriculture film called "Hemp For Victory" extolled the agricultural might of hemp and called for hundreds of thousands of acres to be planted for the war effort.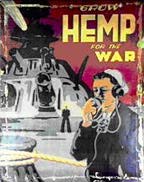 "Hemp for Victory" movie poster
You can also stream, download or get the embed code the film here. We recommend that you see this film as an "entry level" lesson in your hemp history curriculum.
---
We are currently developing this resource. Your donation can help; please visit our Contribute page. Check back again soon!
Also, check out these other sites for more hemp information and history:
Hempology.org - The Boston Hemp Co-Op's Digital Library and Museum