The Obama Administration Is Wrong to Deny American Farmers a Profitable Crop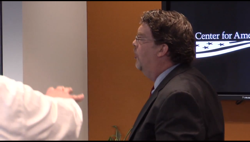 Dear Reader,

Last week, White House officials finally responded to a popular petition, filed in September of 2011 on the "We the People" Web site, in support of allowing U.S. farmers to once again grow non-drug industrial hemp. The petition quickly gained signatures, passing the 5,000 mark needed to achieve a response in just 25 hours. Despite this, it took over seven months for the Obama Administration to respond, outraging and bewildering the hemp industry.
Please read the rest of our reply to the ONDCP and Obama Administration's response to our hemp farming petition at
The Huffington Post
.
Everyone who signed our petition should read this today!

Here is the back story to our interactions with the ONDCP:
On August 5, 2010 we had a meeting in Washington, DC with senior policy advisors at ONDCP. We made our presentation and asked for a clarification of current policy as well as changes to allow for hemp farming once again in the U.S. The meeting went very well, but ultimately we never received a clarification of policy, which we were promised. On September 22, 2011 we posted a petition on the We the People petition site run by the White House. On November 4, 2011 we received an email from ONDCP asking for a briefing about hemp for a senior staffer who would would be writing the petition response. We provided him with a half hour briefing on the phone, follow up emails, and a complete set of documents, which included all of the documents that we brought to our August meeting plus some updated information. On April 24, 2012, a little more than seven months after we posted our petition, the ONDCP issued a response titled "What We Have to Say About Marijuana and Hemp Production." It was just one paragraph and was authored by ONDCP Director Gil Kerlikowske.
America's farmers deserve our Nation's help and support to ensure rural America's prosperity and vitality. Federal law prohibits human consumption, distribution, and possession of Schedule I controlled substances. Hemp and marijuana are part of the same species of cannabis plant. While most of the THC in cannabis plants is concentrated in the marijuana, all parts of the plant, including hemp, can contain THC, a Schedule I controlled substance. The Administration will continue looking for innovative ways to support farmers across the country while balancing the need to protect public health and safety.
On May 1st we attended the Center for American Progress' drug policy event with ONDCP Director Gil Kerlikowske. Written questions were taken from the audience, but our hemp questions were screened out. When the event ended and it was obvious that our questions was not going to be asked Eric Steenstra tried to question Gil Kerlikowske: Why won't you let farmers grow hemp? Please
click here
to see what happened after the mics were cut.